8 April 2020
Discover five of the best beaches and coves on the southern Costa Blanca (Alicante)
Mediterranean Beaches. So much to see.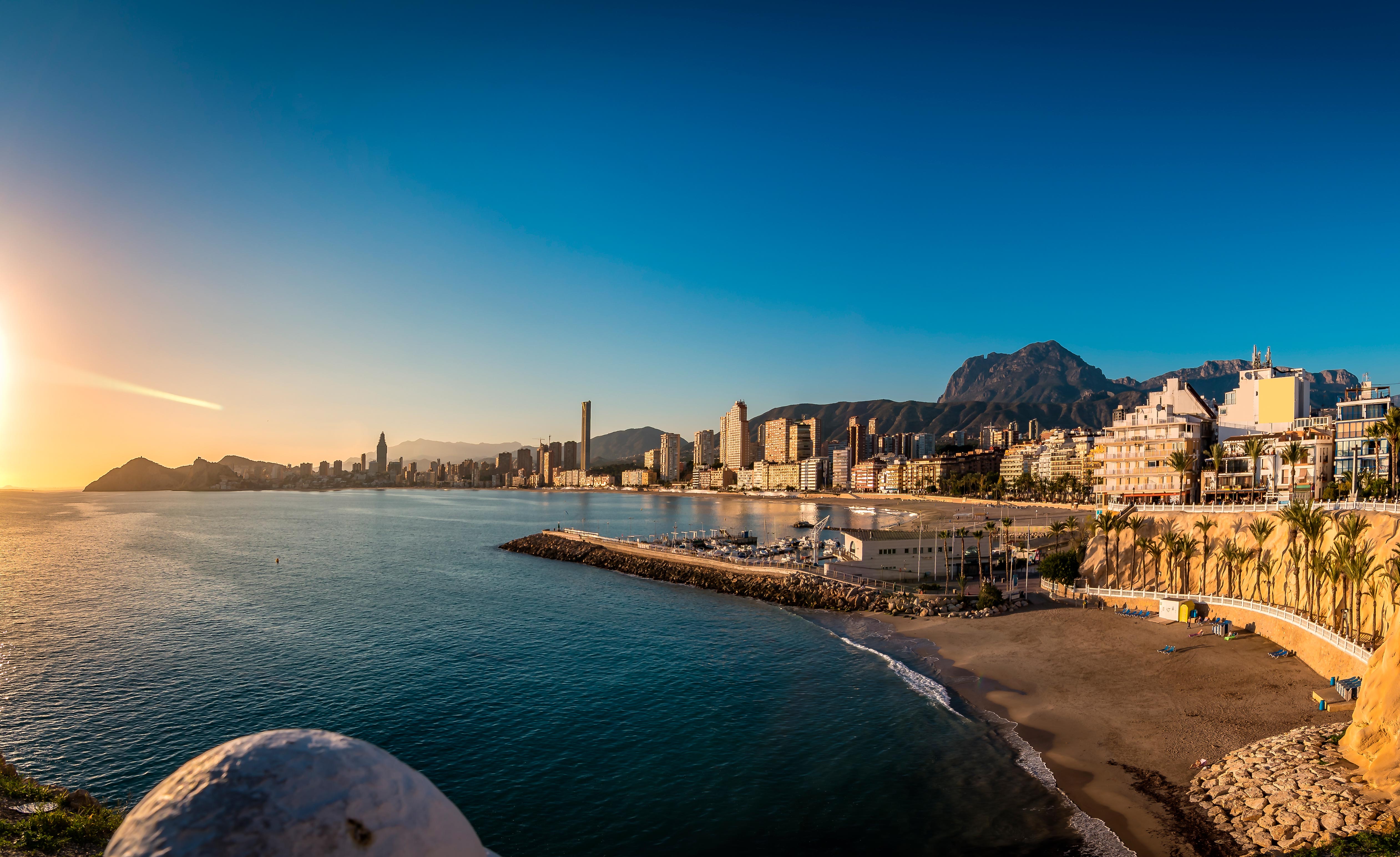 If you're already dreaming about your next getaway, but you're not sure where it will take you, we'd love to help you discover the incredible beauty of the southern Costa Blanca coastline. This unique part of the coastline in Alicante Southern Spain offers a great climate, exquisite gastronomy, endless sunsets and relaxing bathing in the warm, crystal-clear waters of its amazing coves and beaches.
At La Finca Resort, we'd like to introduce you to five of the best coves and beaches on the Costa Blanca, all less than 30 minutes from our hotel. 
Discover them for yourself, you won't be disappointed!
---
1. Playa del Moncayo
Starting in the north and heading southwards, our first stop is Playa del Moncayo in Guardamar del Segura (Alicante), next to the mouth of the river Segura. 
The sand dunes make this semi-natural beach a truly unique spot. It offers outstandingly clear waters and fine golden sand stretching for almost two kilometres. 
This is unquestionably one of our favourites, which is why La Finca Hotel offers a free shuttle service to this beach during the summer season. This means all our guests can enjoy the unique beauty of this incredible location.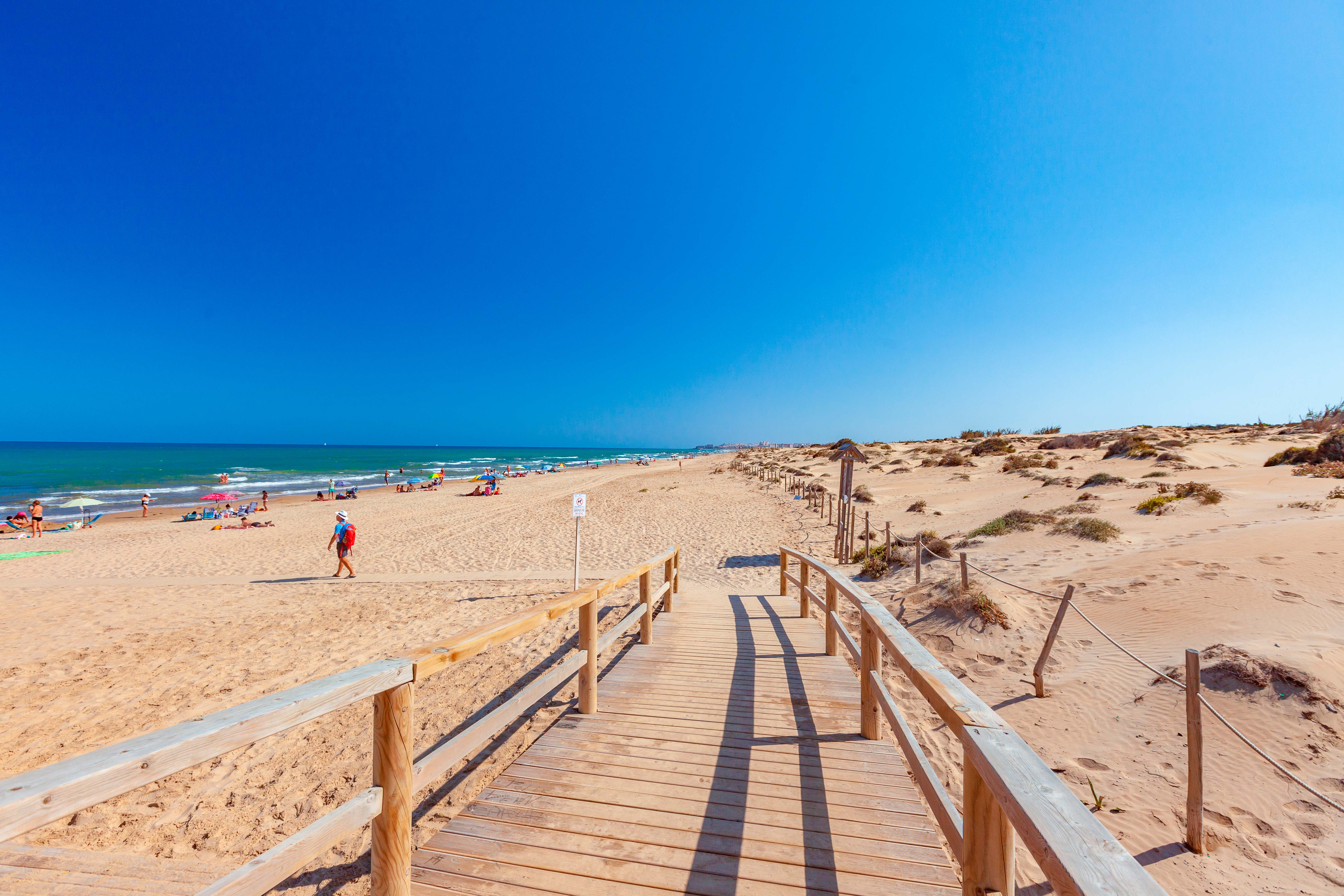 Details:
•  Blue flag certified beach
•  Lifeguard service
•  Showers and foot showers
•  Public toilets
•  Bus service during the summer
•  Car park
---
2. Cala Ferris 
Our second destination is Cala Ferris, a small natural beach that's hidden within the town limits of Torrevieja.
An idyllic spot, surrounded by golden sand dunes where you can enjoy a peaceful swim in the crystal-clear waters, relax beneath a palm tree or take a relaxing walk along the sea shore.
Furthermore, its rich marine ecosystem - prairies of oceanic Posidonia and shoals of fish - make it an ideal place to go snorkelling or diving in this area.
Details:
• Bus service
• Car park
• Accessible on foot
---
3. Cala Capitán
A little further to the south, in Cabo Roig, is Cala Capitán.
This beautiful beach with fine white sand and excellent water quality means you can enjoy a wonderful swim. Furthermore, this cove is perfect for enjoying a day at the beach with your partner,  friends and family because there is a children's playground, an area for sport, food and drink options to choose from, and a two-kilometre long seafront promenade for a stroll and taking in the magnificent views of the Mediterranean Sea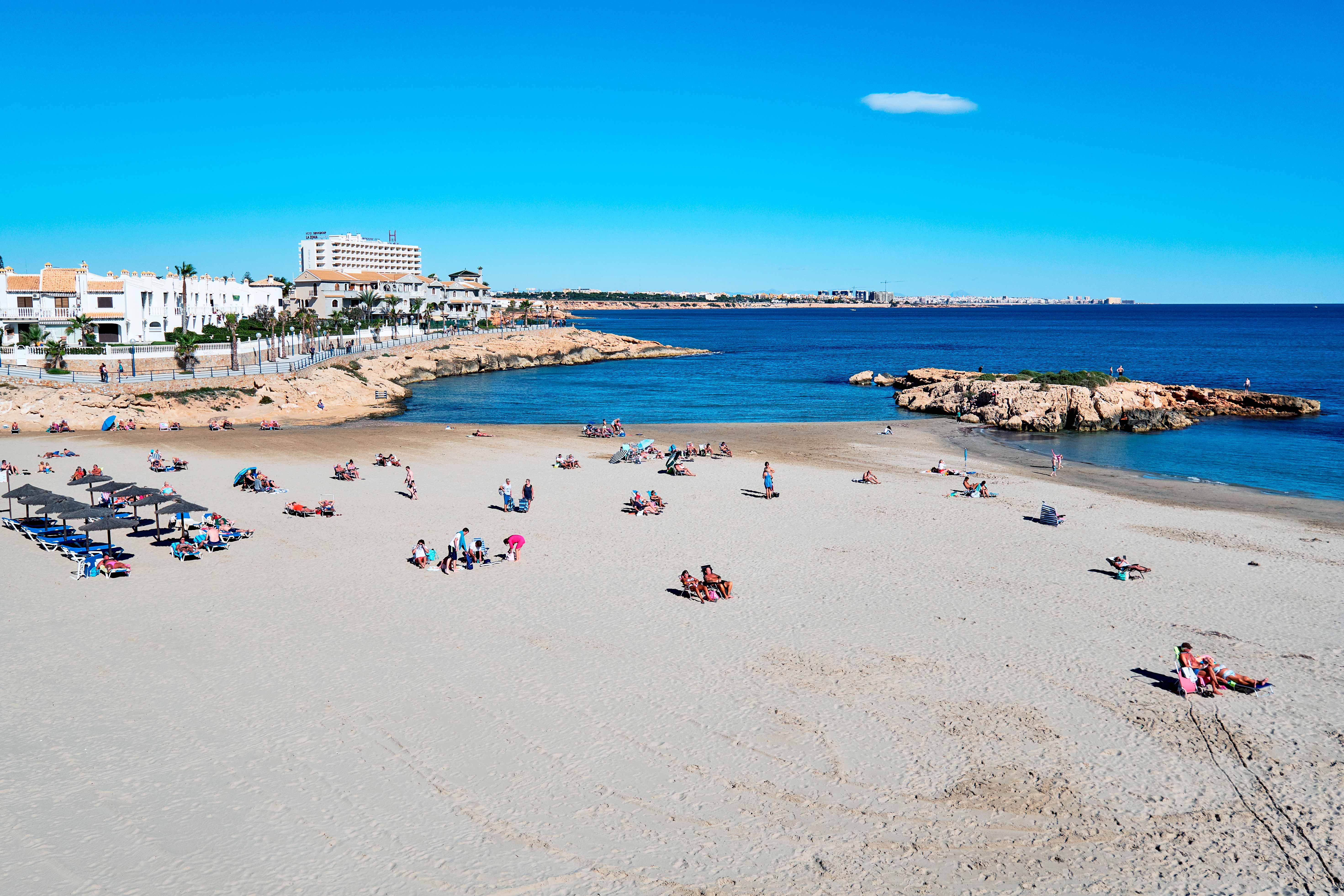 Details: 
• Blue flag certified beach
• Lifeguard service
• Showers and foot showers
• Public toilets
• Bus service during the summer
• Car park
• Disabled access 
---
4.Cala Aguamarina
Very close to the previous cove and near a protected natural micro-reserve with fossils in "Dehesa de Campoamor", we find Cala Aguamarina.
A quiet stretch of beach with clear waters where you can lose yourself and enjoy nature in its purest form.
To access this cove, we recommend following the seafront promenade that will take you down steps to the cove and means you can do some exercise if you continue on to Cabo Roig. This route is also a good option for cyclists, revealing a unique environment with very distinctive flora and fauna to discover.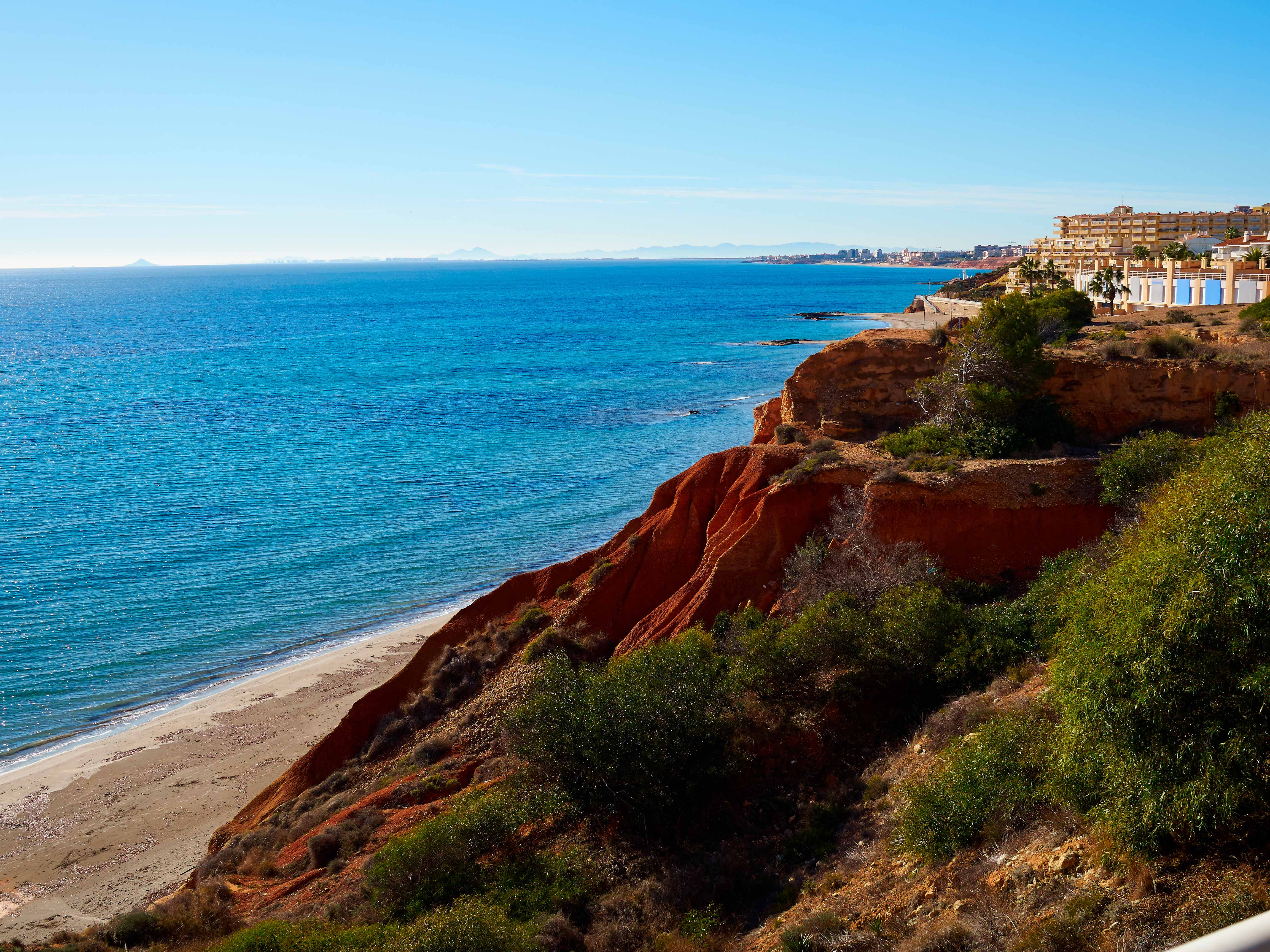 Details: 
• Natural beach 
• Parking nearby
---
5. Playa Mil Palmeras
Finally, our journey ends at Playa Mil Palmeras, one of the most famous beaches in Orihuela Costa and within the municipality of Pilar de la Horadada. 
A natural beach with fine white sand that stretches for almost 800 metres.
It can get quite busy during the summer because it offers a large number of activities and facilities for all ages, like a children's playground, beach bars, and a sun lounger and parasol rental service. Furthermore, if you enjoy sailing along the Mediterranean coast, you can also rent small pleasure boats here to sail locally.
Details: 
• Blue flag certified beach
• Lifeguard service
• Showers and foot showers
• Public toilets
• Bus service 
• Car park
• Water inflatables for children
If you do decide to enjoy a few days on the Costa Blanca, you can find more details in the follow maps.