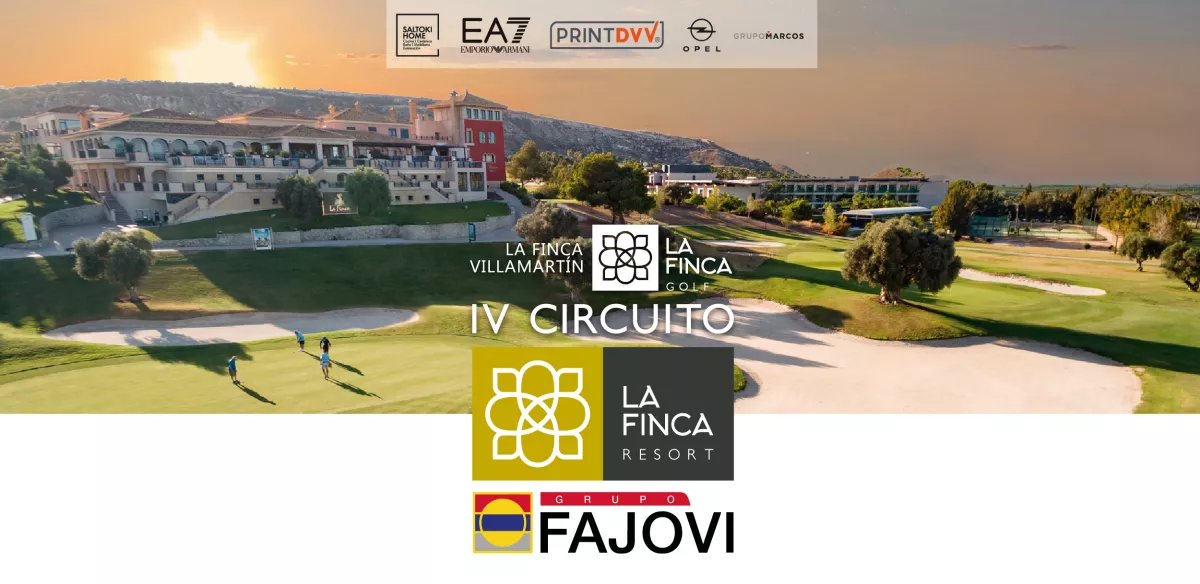 IV Circuit La Finca Resort
One year more, La Finca Resort organizes the  IV Circuit La Finca Resort, which will consist of four qualifying tournaments that will be played in the La Finca and Villamartin golf courses, plus two-days of competition for the Grand Final to be held in La Finca Golf with a Great Price of 2-nights for two at La Finca Resort for all those who are classified, and memberships for the two courses and other importan prizes! 
FINAL
25th-26th NOVEMBER
LA FINCA GOLF
---
Players who agree by contracting the two-night pack that La Finca Resort will offer specifically for the event will also participate in the final of the circuit. Double pack €714 and individual pack €470
EVENTS CALENDAR
---
---
---

FORMAT
Individual Stableford 18 holes

CATEGORIES
3 categories equals (Ladies and Gents)
1stª Category HCP up to 10,4
2nd Category HCP 10,5  to 18,4
3rd Category HPC from 18,5
Handicap limited. 32 Ladies - 24 Gents
QUALIFYING TOURNAMENTIN REGISTRATION
Subscriber of La Finca and Villamartin members
€45
---
PRIZES THIRD QUALIFYING ROUND
Welcome Pack:  Divot Repair tools La Finca Resort + Picnic
---
1st and 2nd classified in each category: Invitation to the Final + Trophy + Armani EA7 golf bag + Armani EA7 water bottle.
3rd in each category: Invitation to the Final + Trophy + Armani EA7 Water Bottle
---
Scratch:  Invitation to the Final
---
Par 3: RICOH Multifunction Printer + Wedge Callaway + Bodega Campillo Wine Box + Boat trip
---
Raffles:
Dinner at Frijolino for two people
La Finca Spa water circuit for two people
Physical assessment and personal trainer session at La Finca Sports for one person
Golf equipment
INVITATION TO THE FINAL
Includes:
Stay from 24th to 25th November (2-nights in a double room with breakfast). Ask for special offers for more nights.
Green fees for two days for the Final 
Wine tasting for two at La Bodega de la Finca
Prizes ceremony lunch with companion on Sunday 26th November
FINAL PRIZES
Trophy and unlimited golf subscription  to use in the 2 golf courses of La Finca Resort:
1st of each category 1 year.
2nd of each category 6 months.
3rd of each category 3 months.
Scratch Awards
Special Awards
REGULARITY PRIZES
First 4 classified who have played all 4 events, are invited to participate in the Final of the Circuit.