28 August 2019
La Finca Resort raises the bar with Mexico Gourmet: a themed night of beans and mariachis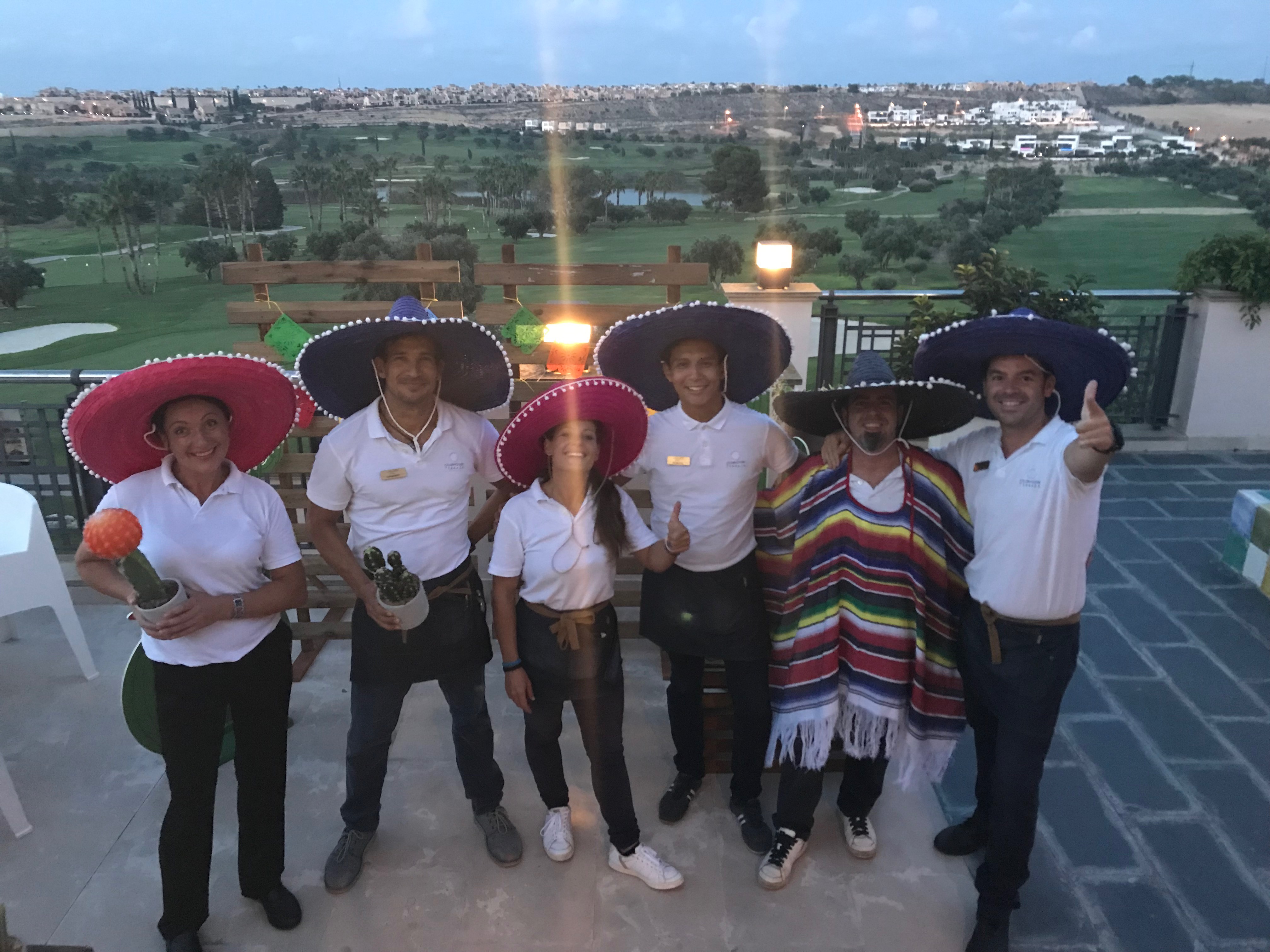 La Finca Resort celebrated its Mexico Gourmet night on Sunday: an event at La Finca Clubhouse to try out some of the dishes for the future Italian-Mexican restaurant. A lively atmosphere was created by a band of three mariachis and the venue was given a Mexican make-over, including a photocall area.
The clubhouse restaurant terrace is one of the most special spots at La Finca Resort, offering views out over the golf course refreshed by a pleasant summer breeze. This was the chosen location for trying out part of the menu for the future Italian-Mexican restaurant, which is scheduled to open for the end of this year, at an event that captured the imagination of everyone who came: Mexico Gourmet. 
The guests, who needed to have booked in advance due to the limited spaces available, began to arrive at 20:00. The space was decorated with Mexican motifs and a photocall area was set up with Mexican sombreros, a poncho, coloured flags, cacti and other items to encourage guests to have their photo taken.
Traditional Menu
The tables were spread out all over the terrace to make the most of the best views of the golf course and the pleasant summer breeze. The chef at La Finca Resort designed a menu so guests could try a wide range of typical Mexican dishes, and the most popular will probably be included in the menu for the future Italian-Mexican restaurant scheduled to open later this year.
The starter was served at the tables and consisted of a refreshing Mexican ceviche with coriander, mint and coconut milk, mini shrimp tostadas and a selection of Mexican empanadillas. For their main course, guests were able to visit the buffet stations to choose from the various options available. Chicken or beef fajitas, crispy tacos with chilli con carne and traditional spices, fish tacos, chicken chimichangas, Mexican rice and re-fried beans with melted cheese.
The dessert, which was also served at the tables and won over any straggling doubters, provided the final touch to this incredible meal: a Mexican flan and sweet milk cake.
Mariachis
Besides the decoration and the menu, all the guests enjoyed a wonderful performance by three mariachis who sang traditional songs for a little more than one hour: Guantanamera, Perfidia, El reloj, El rey, Allá en el rancho grande, Adelita, Volver volver, Jalisco no te rajes, La bamba, Si nos dejan, Caminos de Guanajuato, Y nos dieron las diez…
Here is a video of the event and the photo gallery we have uploaded to our Facebook profile. If you can't wait to receive notifications about future events and promotions should subscribe to our newsletter.